Two Great Ways To Make It Automatic
The 2020 Slingshot SL and Slingshot R give you the option of AutoDrive for the first time.
Go to Slingshot S Model Page
Starting CA MSRP: $33,499
Go to Slingshot S Model Page
Starting CA MSRP: $37,999
Available with AutoDrive or Manual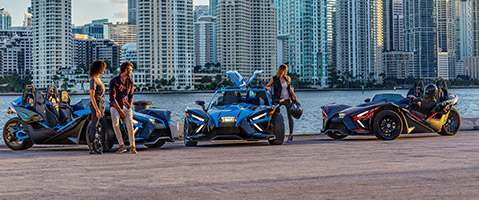 What Else Is New for 2020
We Didn't Stop At Making It Automatic
Slingshot's New Heart: ProStar 2.0L DOHC 4 Cylinder
Tuned to perfection and put through an exhaustive track and on-road testing program to ensure quality and reliability, the ProStar 2.0L was designed to enhance an already incredible on-road experience. The SL packs 178 horsepower at an incredible 8500 RPM, while the new R model puts out a jaw-dropping 203 horsepower at 8250 RPM – an increase of 30 horsepower compared to the previous powertrain.
A new premium leather-wrapped, flat-bottom steering wheel with multi-function controls and integrated cruise control immediately redefines the personal connection between the driver and the vehicle. New adjustable air vents improve airflow and increase comfort for drivers and passengers during weekend trips or daily adventures. Standard equipment across the 2020 lineup, Slingshot's seven-inch Ride Command® infotainment system returns with an improved viewing angle and even brighter display screen for easy viewing in broad daylight. Listen to your favorite music with crystal-clear audio thanks to the 100-watt Rockford Fosgate® audio system.