Commentaires sur le Slingshot
Découvrez les commentaires sur tous les modèles ci-dessous ou partagez votre expérience de propriétaire ou de randonnée de démonstration.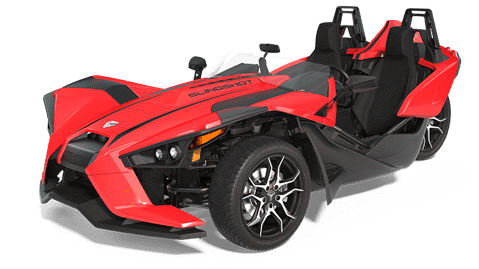 2020 Slingshot® SL
À partir de
33 499 $
PDSF (CA)
2020 Slingshot SL Red Pearl
is rated out of
5
by
69
.
Rated

4

out of

5
by
Bobby
from
Half Car:
Bought May 2017, the rear reflectors keep falling of. Good thing it happened in the garage instead of on the road. Cruse control would work and then not work, CCM in Wilmington Ohio was very good at addressing all problems. Getting to old to ride in the cold now, not young any more. But over all they are get it better and better all the time. I love mine and kids go crazy over it , want to take a ride in it.
Date published: 2017-11-22
Rated

5

out of

5
by
Grandmaof8
from
Having a blast!!
I've had my 2017 Slingshot for about a month now. I take it everywhere. Already have over 800 miles and have had my first oil change. I'm glad I made the decision to buy one. AND I'M A 61 YEAR OLD WOMAN!!! We get compliments all the time . The only down side is the fact that in Ohio I had to get a motorcycle endorsement . Having a blast!
Date published: 2016-09-21
Rated

5

out of

5
by
ChrisF
from
Have enjoyed it even more than expected!
We've had our 2017 SL about 6 weeks early in 2017, so the weather hasn't cooperated much. A few short but spectacular rides has us impatient for better weather here in SW Colorado. In our early 70's, we are most interested in sight seeing (though we have scraped pegs 2-up in the Appalachians and Rockies). We plan rides in the mountains and the 4-Corners countryside, but anticipate pulling it with 'The Ultimate Trailer' we also bought so we can go longer/further. So far it's definitely been more fun than we expected. No complaints. Plenty of power/torque from the 170+ hp modern GM 4cyl engine can be put to good use thru the wide single drive wheel thanks to traction control. Variable steering is quick at speed and that's fine with me in 2nd and 3rd on twisty mountain roads. I'll add a photo of Jodi on top of Mesa Verde (which we have been up and down at least 3 times now in the SL) and in the yard with the trailer.
Date published: 2017-04-26
Rated

5

out of

5
by
Poppy
from
Sensory explosion
Recently sold both of my Honda motorcycles due to the unexpected death of my wife. Additionally my knees are in bad shape and the positioning on the bike while riding causes discomfort. Riding in the cockpit allows me the freedom to alter my sitting position and drive comfortably for hours. Exposure to all that surrounds you is beyond description.
Date published: 2017-04-27
Rated

3

out of

5
by
Mr Vicsek
from
It has recall ,but no parts yet , needs a full win
It needs a full windshield, as low as it sets you get hit by flying rocks from other vehicle an dirt on the side of the face . The clutch need cable needs adjusted at 600 plus miles , in between shifting it stays on high idle to long . Plus I think the extra parts are way to high . Need to make the back look more appealing , like the front , it has all the look . Drivers seat belt has to be pushed in an out a couple of times ,it like resetting it so the male well stay in , plus the left side hood latch has to be unlatch before hood well latch . Did not like the back tire .
Date published: 2019-11-11
Rated

5

out of

5
by
Jerome
from
Slingshot owner
I've had my Slingshot for 2 months and loving it. Thank you to Chris Johnson and the staff @ St Pete Powersports
Date published: 2017-04-27
Rated

5

out of

5
by
Sereita
from
Love it!
My husband bought me this for my 65th birthday. The only thing I can see wrong is the glare on the audio/backup camera is hardly visible during the day light hours. The storage locks also had to be replaced because they wouldn't lock and you couldn't get the key out when they finally locked. I'm having this fixed currently. I live in Kentucky and had to take it back to Pensacola, FL because the dealership about 50 miles away....sucks.
Date published: 2017-04-26
Rated

5

out of

5
by
Big Dan12
from
Loving it.
I purchased this in the end of August 2018. Put 490 miles on it before weather turned cold. Worked out good I can change my oil in spring now and start fresh. I am getting a little older now and didn't feel as comfortable holding up a 900 Lbs 2 wheel Harley as I used to. This is the answer for me.
Date published: 2019-01-23
Avis des Clients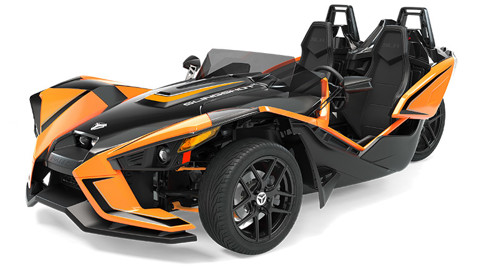 Slingshot® SLR
À partir de
36 399 $
PDSF (CA)
2019 Slingshot SLR Red Pearl
is rated out of
5
by
76
.
Rated

5

out of

5
by
Maximus Speed
from
Love my SS
We bought the SS after my wife and I were in a horrific crash on our Harley. (Another example of a driver of a car not paying attention) We both love it. It is fast, fun and handles great. We are more relaxed and not beat up as bad on long rides on the HD. Wish we had bought the SS first instead of the HD. Nothing wrong with motorcycles or HDs, just feel like I missed out on some of the fun we could have had if we had bought a SS first.
Date published: 2017-04-28
Rated

3

out of

5
by
FerrariF430F1
from
Bit disappointed but like it
Panels missing screws, front fascia not aligned, already axle seal leak at 400 miles, steering clock spring issue, dealer acting unhappy to fix it, iPhone6+ doesn't connect to radio Bluetooth, paint issues in two spots, seats very loose and need to be tightened down. Hopefully dealer fixes issues correctly without damaging anything. It's there now. Otherwise, it is fun and do enjoy it.
Date published: 2017-04-27
Rated

4

out of

5
by
Vt Vette
from
Fun Ride
Truly a joy to drive and gets a lot of looks and thumbs up!!! The only problem that I have with the vehicle is the wining noise the transmission makes when decreasing acceleration
Date published: 2017-04-26
Rated

4

out of

5
by
LIbiker1
from
What a machine!
An absolute joy to ride and be seen in. Where ever I go people people ask if they may take pictures of it. I feel like a Rock Star.
Date published: 2017-05-02
Rated

5

out of

5
by
Annied
from
Happy Happy Happy
Just having so much fun. My girlfriend also has one. Looking forward to riding this summer
Date published: 2017-04-27
Rated

5

out of

5
by
TimC
from
Do it
Had a little over a year now. Love it! Been neglecting my Roadking ever since. options galore to make it your own
Date published: 2017-07-29
Rated

5

out of

5
by
vincent
from
fantastic ride
i love this Slingshot you have the feeling of a motorcycle and a sportscar.Open air cockpit,the feel of freedom.
Date published: 2017-05-01
Rated

5

out of

5
by
Pupman
from
2017 SLR
Traded in a Goldwing on the Slingshot in October. It's a really fun vehicle to run around in, out handles any vehicle I've ever owned. There's a world of after markets items for Slingshots out there so a new owner can modify one any way they like.
Date published: 2017-04-28
Avis des Clients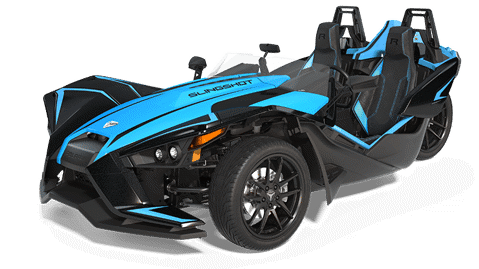 2020 Slingshot® R
À partir de
37 999 $
PDSF (CA)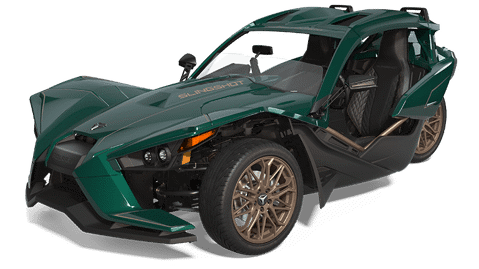 2020 Slingshot Grand Touring LE
À partir de
41 999 $
PDSF (CA)
2020 2020 Slingshot Grand Touring LE Fairway Green with Bronze Accents
is rated out of
5
by
19
.
Rated

5

out of

5
by
Gunslinger
from
Best Decision Ever
This is such a fun vehicle to own. We traded our Harley Davidson Triglide in for a GT Slingshot and we have not had one minute of regret. Every day is an adventure when you own a Slingshot, especially for me, a female. I could not handle the large Harley, but driving the Slingshot is easy and a blast! I wish I had gotten my own Slingshot sooner, but I am making up for lost time with several long ride days a week!
Date published: 2020-04-27
Rated

3

out of

5
by
Ron p
from
Not so good
250 into ownership cam positioning sensor went bad. 300 miles the knock sensor was unplugged. ALL OUT CYCLE said it was a Polaris problem not there.
Date published: 2020-06-25
Rated

4

out of

5
by
jfranze
from
My New Slingshot (Grand Touring)
I have had my Slingshot for about two months now an overall I love it. It has been nothing but fun and it causes a lot of heads to turn. The only negatives I can think of would be lack of visibility in the Grand Touring model and the Slingshot overall is very loud. Neither of these negatives have kept me from having fun.
Date published: 2019-09-29
Rated

5

out of

5
by
tattooed1968
from
fun ride
I bought this last month and im glad i did, can extend my riding season and my wife who was diagnosed with ms can enjoy it for longer periods than on 2 wheels
Date published: 2020-01-08
Rated

4

out of

5
by
TinMan
from
Looks good with me in it.
I got it ni October and started driving it as soon as the weather cleared up in Texas but not much, so I wait for good weather., the only thing is the hand brake grip is already falling apart sad.
Date published: 2019-12-16
Rated

5

out of

5
by
Joseph
from
Lots of fun
I wanted a ride with the open wind like a motorcycle without wearing all the gear. Wow, this hits the mark at many levels.
Date published: 2020-03-17
Rated

5

out of

5
by
Tebucket23
from
My beautiful batmobile
Picked it up from Dealer August 1 have not stopped smiling yet
Date published: 2019-09-15
Rated

5

out of

5
by
Mick34ford
from
Lots of fun!
Have had for 2 months and have had plenty of fun in it. A very fun machine to drive. Lots of power and great GPS navigation. Lots of "thumbs up" from passer buyers. Love the roof system on it with the taller windshield. The Bluetooth connectivity for music is simple and straight forward and works great. With lots of aftermarket accessories you can make your slingshot your own creation and one of a kind.
Date published: 2020-03-31
Avis des Clients