The classification of the Polaris Slingshot® is region-dependent*. The most common classifications are motorcycle, which requires a motorcycle endorsement or license, and autocycle which only requires a drivers' license**.
See your province laws for full details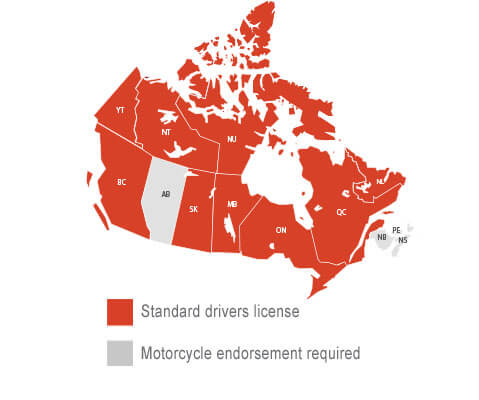 Q: Where can I find a Dealer?
A: Use our dealer locator to find a dealer near you.

Q: Can I take the Slingshot for a test drive?
A: Request a test ride from a dealer near you.


Q: Where can I buy a Slingshot?
A: Selected dealers from Polaris throughout North America sell Slingshot. Find a dealer near you.

Q: Where can I find a safety course?
A: Go to the Motorcycle Safety Foundation site to find an appropriate course near you.
*This information is being provided only as a general reference. It is not and should not be considered legal advice. Laws and regulations are subject to change.
Always consult local authorities to determine province law vehicle classification and licensing requirements.
**Polaris recommends always wearing a DOT approved full face helmet.
---