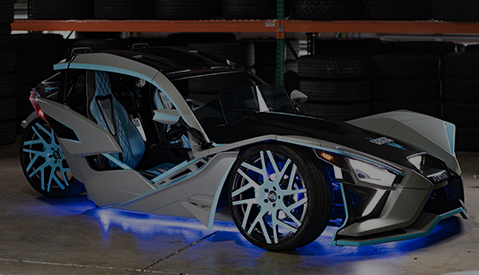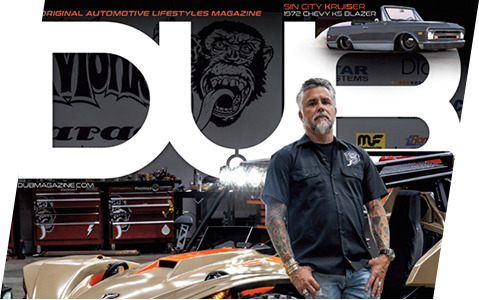 "Half the fun in owning a Slingshot is customizing it and making it your own. For us at Gas Monkey Garage, we put a build plan together that will allow us to get after it and have some fun. Because that's what Slingshot is all about – personalization through customization."
-Richard Rawlings
Never carry fuel on the vehicle. Failure to follow this instruction could lead to serious burn injuries or death. Tanks are portable water cans.
Where love of art and machine come together to make the ultimate masterpiece. Blank Canvas allows local artists to make their mark on a Slingshot, a three-wheeled one-of-a-kind driving experience that accelerates creativity with unlimited possibilities. It's time to make your mark and let your imagination go wild on the ultimate blank canvas.
Chad Mize Partners with Slingshot to Shine
Chad Mize Partners with Polaris Slingshot to bring three-wheel art to SHINE Mural Festival Florida-based multimedia artist, designer and muralist, Chad Mize, tackles a new canvas and delivers a three-wheel doodle vehicle to this year's SHINE Festival.
Shelbi Nicole Uses Slingshot As The Ultimate Canvas
See how Houston-based artist, designer, and muralist Shelbi Nicole, is driving one art community to new heights.
Houston Blank Canvas Reveal
Houston Blank Canvas Design
Slingshot's® Best of the Builders: East vs West
The Inspiration: DUB® Publishing and Travis Barker
The Inspiration: The Auto Firm and Teyana Taylor
CHECK OUT WHERE SLINGSHOT HAS BEEN TURNING HEADS LATELY
Meet Scott from Altoona, WI. He joined us at the 2019 SEMA Show displaying his custom 2015 Slingshot that underwent a complete engine swap.
Meet Ronn and Cynthia, Slingshot owners from Las Vegas, NV. They not only love customizing their Slingshot named "Alter Ego" but being involved in a community of Slingshot owners that focuses on giving back.
Slingshot showcased 4 custom owner vehicles at the epicenter of custom culture, the 2019 SEMA show. Check out the incredible lineup!
Meet Vance, Las Vegas local. Vance displayed his custom Slingshot at the 2019 SEMA Show and shared with us that his favorite thing about his Slingshot is how much joy it brings to others around him.
Meet Dennis, resident of Las Vegas. Dennis, his dog Yankee, and his Slingshot are globetrotters who took some time out of their adventures to display Dennis's custom Slingshot at the 2019 SEMA Show.
Miami Police Department Slingshot
Slingshot teamed up with Alex Vega of The Auto Firm to take on the project of making a completely custom Miami Police Slingshot. Outfitted with custom Avorza wheels and Whelen Engineering lights and siren, The Miami Police Department uses the Slingshot for community outreach and engagement. It serves as a way to break down barriers and engage local citizens.
Slingshot Customs - Rockstar / Destiny 2: Forsaken Giveaway
Slingshot partnered with Rockstar Energy and the newly launched Destiny 2: Forsaken video game. This custom Forsaken themed Slingshot was the end result that one lucky winner drove away with.
Slingshot Customs - Custom Build For Singer-Songwriter Luis Fonsi
Slingshot teamed up with Alex Vega, owner of The Auto Firm, to create a one-of-a-kind Slingshot build for pop artist Luis Fonsi. Check out the custom build process from start to finish & see the final reveal!
Slingshot Customs - The Auto Firm On Velocity
Known for his killer customs, Alex Vega teamed up with Teyana Taylor to create a custom Slingshot. Check out how he made this a one-of-a-kind build!
Slingshot Customs - The Ray Of Hope Charity Golf Tournament
Slingshot and Alex Vega of The Auto Firm teamed up with the Ray of Hope Foundation to raise money for the youth of southern Florida. Alex Vega designed a custom Slingshot that was auctioned off at the event. Additionally, Slingshot donated $7,000 to the foundation. Check out all the action!
Slingshot Customs - West Coast Customs
Check out the epic custom Slingshot the guys at West Coast Customs created for Shaquille O'Neal! #SlingShaq
Slingshot Customs - Cain Velasquez
Cain Velasquez's custom build is as fierce as he is. Stay tuned to see more of this awesome build!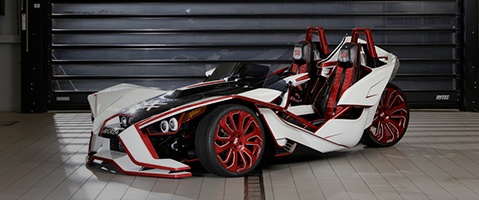 Upload a photo of your vehicle here or tag it on social using #MySlingshot to be featured in our gallery.