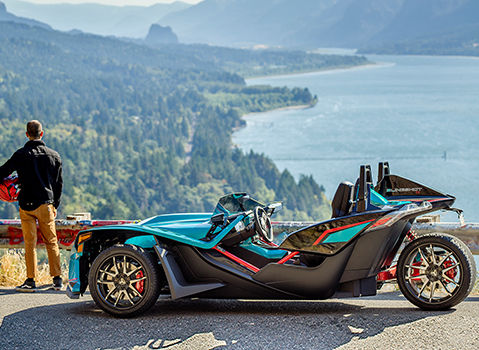 Marlen Esparza | Make Your Mark
Marlen Esparza is a history-making female boxer, 2012 Olympic bronze medalist, World Champion, current professional boxer, and mother of a 3-year-old. She shares how she empowers women through her career and everyday life and what she enjoys most about Slingshot. "It's different. It's unique. It's empowering. It's super cool."
Jeremy Fall | Make Your Mark
Jeremy Fall, the decorated chef, restaurateur, and entrepreneur turned NFT creator and educator, tells us about his journey and how he accomplishes everything he sets his mind to. "To make your mark, you have to really just follow what feels right."
Katy Schlemmer | Make Your Mark
Katy Schlemmer specializes in creating live-action and 2-D animation content for all media platforms and has worked with the likes of Jason Derulo, Jimmy Fallon, Martin Lawrence, Gal Gadot, Snoop Dogg, Barbie Ferreira, and more. "I think creativity is important because it allows you to put your individual twist out in the world."
Bow Wow opens up about his Signature LE Slingshot. "Being original is everything. You have to evolve; you have to elevate." Express your authentic self in a Slingshot and make your mark on the open road today.
An open-air cockpit. An absurdly low profile. The thrill of three wheels. The Slingshot looks, sounds, and drives like nothing else on the road. Each one is as unique as its driver, serving as the ultimate platform for self-expression. Leave the ordinary behind by getting behind the wheel and making your mark on the open road.
---
"Not only does accelerating now feel fluid and effortless but after spending an afternoon abusing the streets of Laguna Beach while pageant waving at the adoring public, I'm now 1,000 percent convinced that it's my birthright to own one." - Jay Connor, The Root
"The Slingshot is not just a Powersports toy. It is something that brings people together and is something that they can share and take part in. The fact that they have grown as much as they have and have spawned this new community that's very much like Wrangler people or Corvette people speaks to their attention to their community's needs." - JAX Cars and Motorcycles
"Driving the 2022 Polaris Slingshot felt like how I always imagine house-bound dogs feel when they finally get a chance to run wild in an open field, using nothing but strength and muscle to bound forward: Free." - Elizabeth Blackstock, Jalopnik
"For the adventure seekers, the car enthusiasts, or those who just love to show their style, the experience of driving a Slingshot has endless possibilities. Whether it's your go-to for weekend getaways or your daily driver, one thing is certain - life is better in a Slingshot."- Jamie Agoglia, Elevated Luxury Magazine
LET THE SEATBELT
BE THE ONLY THING
HOLDING YOU BACK.
*Some models shown with optional accessories.
Stand out, stand proud. Connect with other passionate riders and share your love for adventure.
Follow Us: @polarisslingshot or #PolarisSlingshot