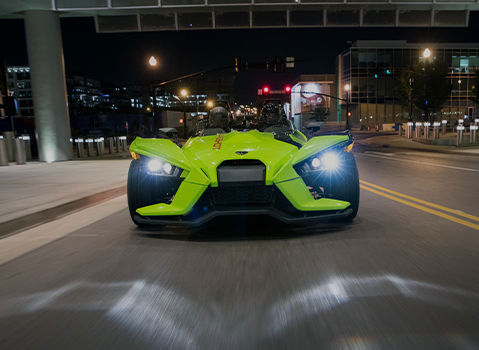 It's almost impossible to miss. No one can seem to keep their eyes off of it, whether at rest in the parking lot or at speed on the highway. The reason is simple. The Slingshot looks, sounds, and drives like nothing else on the road today. Each one is as unique as its driver, serving as the ultimate platform for self-expression and creativity. But one thing is always included: the instant, indescribable, and magnetic effect that transforms even the most mundane into something extraordinary. That's the Slingshot Effect.
Slingshot is the perfect vehicle for a trip to the beach, your daily commute or wherever the weekend might take you. If you're looking for a unique and elevated experience on the open road, there's nothing that drives quite like it. Take your Slingshot from your screen to the street.
---
"The Slingshot turns heads more than a GT3 RS and it'll put a smile on your face every time...and now it's available in an automatic so there's virtually no excuse not to test drive one." – Super Street
"The Slingshot is also one of the most vivid and distinctive vehicles on the road, both visually and in terms of the way it drives. That, friends, is mighty hard to put a price on." – CNET Roadshow
"Endless customization and unparalleled open driving experience. This year brings an automatic option, their first 4-cylinder engine with horsepower upgrades, and a completely redesigned interior cockpit." – Ricky Shoebio
"There's really no vehicle in the world like a Slingshot." - Motorcycle Cruiser
Get ready for
double-takes as you show up in style.
*Some models shown with optional accessories.
Impossible to ignore, Slingshot owners are a proud group. Connect with other passionate riders and share your adventure.
Follow Us: @polarisslingshot or #PolarisSlingshot