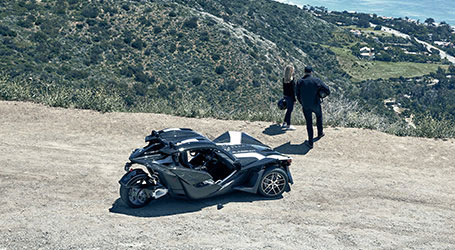 Polaris Slingshot rental: when a test drive isn't enough
Driving a Polaris Slingshot is a unique experience. You grip the wheel, throw it into first gear and the ultimate power-to-weight ratio rips you into the sunset.
Many customers report the Slingshot feels like a race car or video game. But don't be fooled, the exhilaration is very real. If you're considering a test drive, you might want to also consider renting a Slingshot for an extended, more exhilarating experience.
A Slingshot test drive introduces you to the basic driving experience, but many find they're hungry for more. Luckily, you can rent a Slingshot through Polaris Adventures. In addition, you can demo a Slingshot at one of our many events, or ride along in a Slingshot on a race track at a participating Xtreme Xperience location.
Each of these options offer extended thrill-riding with the added benefit of giving you a good idea of what owning your very own Slingshot might be like.
Read on and learn more about each of these experiences.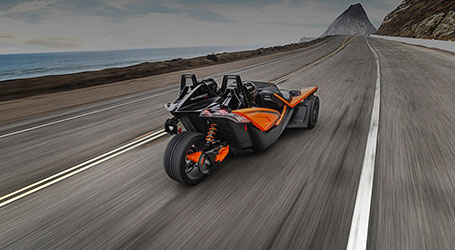 1. How to Rent a Slingshot
Polaris Adventures offers afternoon, day-trip and weekend Slingshot rental packages in a variety of scenic locations across the United States. From New Hampshire to Napa Valley, Route 66 to Rocky Mountain National Park, you can soak up the beautiful scenery of this great nation behind the wheel of a Polaris Slingshot.
In addition, there are several independent motorsports outfitters who rent Slingshots. Simply perform an Internet search for more information on third-party rentals in your area.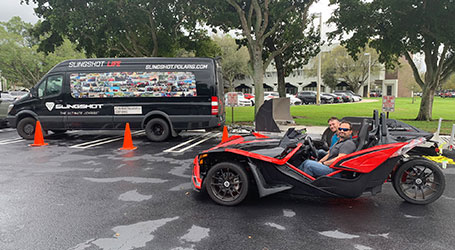 2. How to Demo a Slingshot
No rentals in your area? Vehicle demos are provided by regular Polaris Slingshot hosted events and dealer test drives for owners and prospective owners who want to experience our vehicles. Check our events page regularly to find out when events are happening in your region, and if they'll be hosting demos. This is also a great way to talk with staff about performance, specs, and see the Polaris Slingshot up close.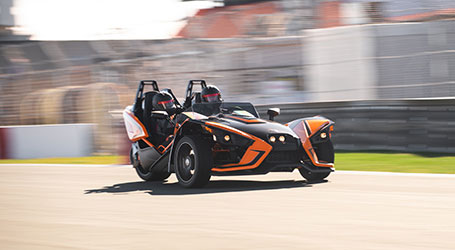 3. Xtreme Xperience: Getting on the Track
For drivers looking for the ultimate joyride, the Polaris Slingshot is now available at select race tracks as a part of Xtreme Xperience. Buckle up for the ride along experience of your life in one of the most epic three-wheel machines on the road. For drivers who want a redline Slingshot experience, this is the best option – and the most fun you'll have on three wheels. We promise.
If you sign up for a test drive, don't forget to enter our Summer of Fun sweepstakes for your chance to win a Polaris Slingshot Experience on the Road to Hana in Hawaii. To learn more about all your rental, demo and Xtreme Xperience options, visit Try Slingshot.