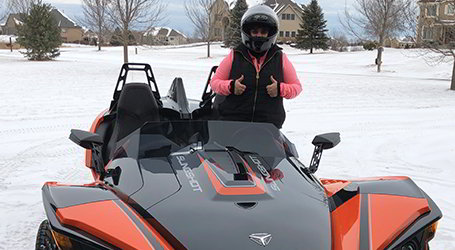 Tips For Winterizing Your Slingshot
Off-Season Storage
While in our minds it's always Slingshot driving season, Slingshot owners in some regions know they have to store their favorite vehicles in the winter. Storing your Slingshot properly is vitally important to its long-term dependable performance, and to your enjoyment next season. So be sure store your Slingshot correctly.
Turn to Your Dealer
Most Slingshot dealers offer storage prep services, and some even offer to store your vehicle, and then prep it in the spring for the new driving season. If you do your own off-season storage prep, your Slingshot dealer is your source of important products such as Fogging Oil (PN 2870791; also available at www.Polaris.com), and more.
Consult the Manual
A great source of winterization information is your Slingshot Owner's Manual. (Which is also available online at www.Polaris.com). You should prepare your Slingshot for storage any time you will not drive it for 60 days or more, and the manual includes step-by-step instructions for storage prep.
Proper storage includes: cleaning your Slingshot and waxing the bodywork, changing the engine oil, using specific lubricants and chemical treatments (available from your dealer), verifying proper tire pressure, elevating the vehicle, covering it, storing the battery, and more.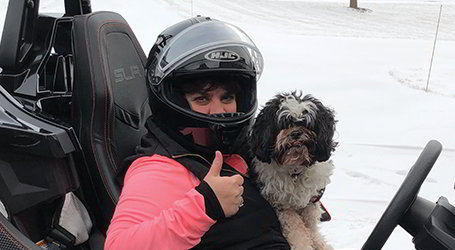 Visit the Online Help Center
The Slingshot Help Center on the Polaris Slingshot website offers a wealth of information, including answers to many of your technical and non-technical questions regarding storage, battery charging, oil types, and much more. Once you're on the Slingshot website, click on Resources and you'll find the Help Center.
Battery Tender
You'll enjoy long, dependable battery life if you maintain and store your Slingshot battery as directed. Your vehicle uses an AGM (Absorbed Glass Mat) battery, and it should be stored connected to a battery charger specifically designed for this battery type. Slingshot recommends the BatteryMINDer 2012 AGM 2-Amp Charger, which is available from your dealer (PN 2830439).
Pre-Season Prep
As spring approaches, you can turn to your Slingshot dealer for pre-season vehicle prep, or once again consult your Owner's Manual for detailed instructions. We hope your off-season is as brief as possible, and that you ensure your Slingshot is properly prepped for storage.