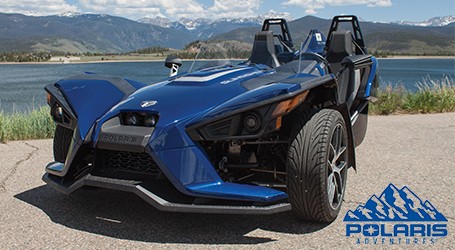 Where To Rent A Slingshot: Rocky Mountain Highs
With breathtaking scenery and thin air at high altitudes, you'll need to catch your breath when you joyride in Rocky Mountain National Park in a Slingshot rented from On the Trail Rentals in Grand Lake, Colorado.
On the Trail is the Polaris Adventures outfitter at the western entrance to the park, and it offers you some of the most incredibly memorable ridings in North America.
Rent a Slingshot and head up legendary Trail Ridge Road, which runs 48 miles from Grand Lake to Estes Park on the park's west side. This road gains 4,000 feet in elevation, putting you above the tree line amid vast tundra at elevations of up to 12,183 feet. The air is crisp and clean, alpine wildflowers explode with colorful blossoms, wildlife roams, and the road includes several pullouts where you can park to enjoy an incredible 360° vistas.
After crossing the Continental Divide at Milner Pass and reaching Estes Park, make the return trip to Grand Lake. The scenery and twisting mountain road will look vastly different in changing sunlight and with a new assortment of wildlife – which can include moose, elk, bighorn sheep, and more – catching your eye.
Grand Lake is an enchanting resort town that caters to visitors with great accommodations and hospitality. It offers both serene views of Grand Lake and the thrilling opportunities of touring the area in a Slingshot from On the Trail.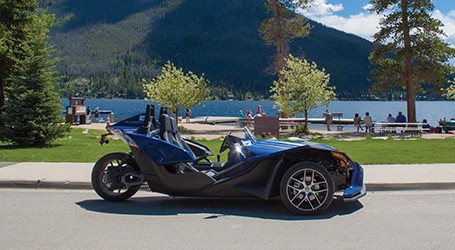 Polaris Adventures
Thanks to Polaris Adventures outfitters, you can enjoy joyriding when you travel without your own Slingshot. Simply rent a Slingshot, get advice from the outfitter about the best driving routes, and hit the gas. Have your camera ready to help capture the epic scenery and great memories you'll make.
Visit http://Adventures.Polaris.com to learn where Slingshot experiences are available. Select your destination, then click on "Book Now" to make your reservation. The Outfitters will provide insurance, equipment such as helmets, and travel recommendations.
Outfitters offer Slingshot SL and SLR models, so you'll have Ride Command® routing and mapping software. Availability can be seasonal, so be sure to contact your outfitter in advance.
You can fly to Colorado and still enjoy the excitement of driving a Slingshot through the spectacular Rocky Mountains. Rent one from On the Trail and Polaris Adventures, and start tagging your photos with #SlingshotLife.