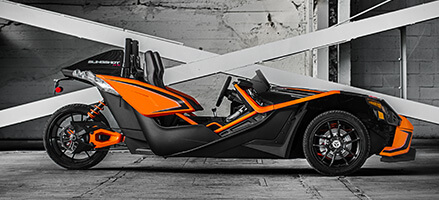 Colorado and Wyoming latest states to reclassify license requirements for Polaris® Slingshot®
The Bold, Three-Wheeled Roadster Gains Momentum With State Legislation, Reinforcing Its Unique Category-Creating Innovation
MINNEAPOLIS (April 5, 2017) –The Polaris Slingshot® has announced that Colorado and Wyoming are the latest states to reclassify its licensing requirements – allowing Slingshot drivers to operate the vehicle with a valid state driver's license instead of requiring a motorcycle endorsement or license. Drivers and passengers in Colorado and Wyoming under the age of 18 will still be required to wear a helmet, in accordance with the states' motorcycle helmet laws.
Because of the unique three-wheeled configuration and unique characteristics of the Slingshot, determining how to classify it has been a challenge for state governments, which Polaris classifies as a three-wheeled moto-roadster. Initially, when it was introduced to the market in 2014, consumers were required to have a motorcycle endorsement or license to operate the Slingshot, which offers a distinct ride through its open cockpit and side-by-side experience. Currently, 30 states, including the District of Columbia, require only a driver's license to drive the Slingshot. The remaining states require a motorcycle endorsement, but efforts are being made to reclassify the vehicle to gain full conformity throughout the United States.
"As we educate state officials on the unique attributes of this category-creating Slingshot, they are realizing that the licensing requirement for the roadster are more similar to that of a driver's license than of a motorcycle endorsement or license," said Rachael Elia, Slingshot Marketing Manager. "Our goal is to gain a unified classification across the country to provide more opportunity and driving freedom for consumers looking for the ultimate thrill experience."
Owners can customize and personalize their Slingshot with dozens of Slingshot Engineered Accessories, including styling enhancements, tech and audio components, storage options, wind deflectors, riding gear, helmets, driving jackets and street wear. Most of the vehicle accessories are offered in a variety of factory color-matched options.
For more information about Slingshot visit PolarisSlingshot.com. Follow us at Facebook.com/PolarisSlingshot, @Slingshot on Twitter and @polarisslingshot on Instagram.
Polaris Slingshot recommends drivers and passengers always wear a DOT-approved, full-face helmet and fasten seat belts when operating. Never drink and ride.
Polaris Industries Inc. (NYSE: PII) is a global powersports leader that has been fueling the passion of riders, workers and outdoor enthusiasts for more than 60 years. With annual 2016 sales of $4.5 billion, Polaris' innovative, high-quality product line-up includes the RANGER®, RZR®, and Polaris GENERAL™ side-by-side off-road vehicles; the Sportsman® and Polaris ACE® all-terrain off-road vehicles; Indian Motorcycle® midsize and heavyweight motorcycles; Slingshot® moto-roadsters; and Polaris RMK®, INDY®, Switchback® and RUSH® snowmobiles. Polaris enhances the riding experience with parts, garments and accessories, along with a growing aftermarket portfolio, including Transamerican Auto Parts. Polaris' presence in adjacent markets globally include military and commercial off-road vehicles, quadricycles, and electric vehicles. Proudly headquartered in Minnesota, Polaris serves more than 100 countries across the globe. Visit www.polaris.com for more information.