Miami Police Department Slingshot
Slingshot® teamed up with Alex Vega of The Auto Firm to take on the project of making a completely custom Miami Police Slingshot®. Outfitted with custom Avorza wheels and Whelen Engineering lights and siren, The Miami Police Department uses the Slingshot® for community outreach and engagement. It serves as a way to break down barriers and engage local citizens.
CHECK OUT WHERE SLINGSHOT® HAS BEEN TURNING HEADS LATELY
Slingshot Customs - Rockstar / Destiny 2: Forsaken Giveaway
Slingshot® partnered with Rockstar® Energy and the newly launched Destiny® 2: Forsaken video game. This custom Forsaken themed Slingshot® was the end result that one lucky winner drove away with.
Slingshot Customs - Custom Build For Singer-Songwriter Luis Fonsi
Slingshot® teamed up with Alex Vega, owner of The Auto Firm, to create a one-of-a-kind Slingshot build for pop artist Luis Fonsi. Check out the custom build process from start to finish & see the final reveal!
Slingshot Customs - The Ray Of Hope Charity Golf Tournament
Slingshot® and Alex Vega of The Auto Firm teamed up with the Ray of Hope Foundation to raise money for the youth of southern Florida. Alex Vega designed a custom Slingshot that was auctioned off at the event. Additionally, Slingshot donated $7,000 to the foundation. Check out all the action!
Slingshot Customs - The Auto Firm On Velocity
Known for his killer customs, Alex Vega teamed up with Teyana Taylor to create a custom Slingshot®. Check out how he made this a one-of-a-kind build!
Slingshot Customs - West Coast Customs
Check out the epic custom Slingshot® the guys at West Coast Customs created for Shaquille O'Neal! #SlingShaq
Slingshot Customs - Cain Velasquez
Cain Velasquez's custom build is as fierce as he is. Stay tuned to see more of this awesome build!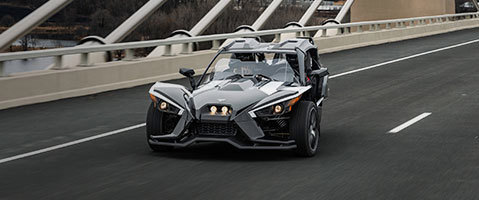 #MYSlingshot
Upload a photo of your vehicle here or tag it on social using #MySlingshot to be featured in our gallery.