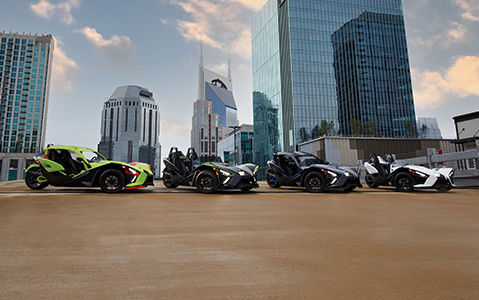 What Else Is New for 2020
Take any drive to the next level with paddle shifters. The introduction of paddle shifters brings added fun and control to your drive by allowing you to manually shift the AutoDrive transmission, a hydraulically actuated automated manual five-speed synchromesh transmission, with steering wheel mounted levers.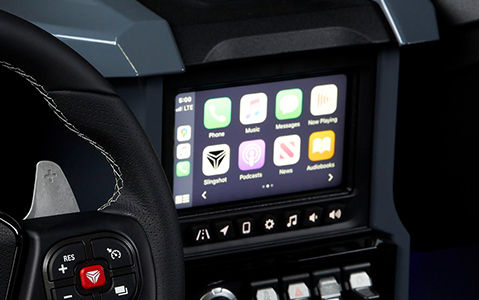 Whether you're going 10 mph or 60 mph, the new Rockford Fosgate® audio system will keep your tunes playing loud and clear. The newly designed speaker pods provide extra comfort and leg room, in dash tweeters provide clear audio at any speed, and easy to install, plug-and-play amplifiers help you turn up the volume. Also new this year to help you stay focused on the road is Apple CarPlay®. Connect your Apple iPhone® to Apple CarPlay® to get turn-by-turn directions, make calls, send and receive messages, listen to music, and more.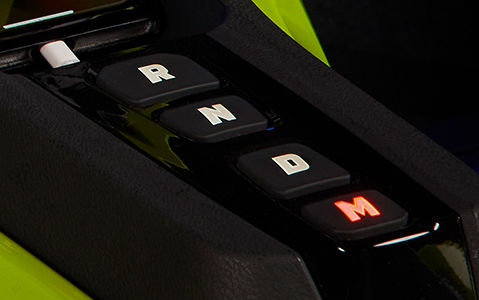 Taking center stage of the lineup is Slingshot's AutoDrive, a hydraulically actuated automated manual five-speed synchromesh transmission. With no clutch or manual shifting necessary, drivers can operate the Slingshot lineup as easily and quickly as any other vehicle with a standard automatic transmission. For those who prefer to handle their own shifting, different models are offered with a intuitive AutoDrive or a sporty manual transmission.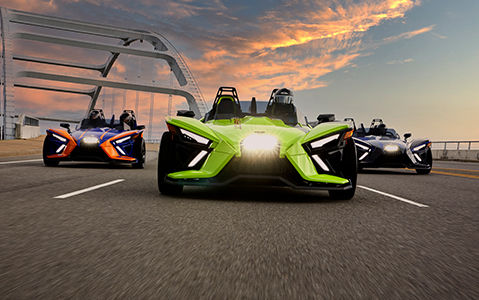 Slingshot's New Heart: ProStar 2.0L DOHC 4 Cylinder Engine
Tuned to perfection and put through an exhaustive track and on-road testing program to ensure quality and reliability, the ProStar 2.0L Engine was designed to enhance an already incredible on-road experience. This ingeniuosly engineered engine has low rotational inertia making it hungry to rev up to its 8500 RPM redline and give you the instant thrill of 203HP (R model).
Whether you're cruising around the city, or out on the open road, there's a drive mode for you. The option to choose between two drive modes, Comfort and Slingshot mode. Each mode will change steering weight, throttle response, shift speed and timing, giving you the perfect drive every time. The 2020 lineup also includes Standard Driver Aids including Speed Sensitive Steering, Traction Control, Stability Control, and ABS.
EXPLORE THE ALL NEW 2021 LINE UP
The 2021 Slingshot SL, Slingshot R, and Slingshot R Limited Edition