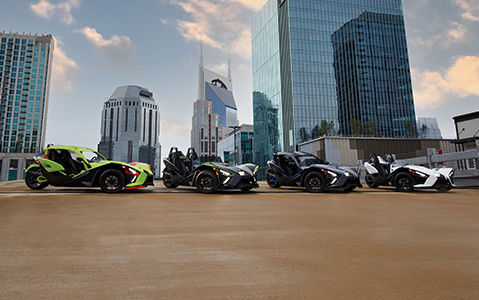 What Else Is New for 2020
Transmission Options & Paddle Shifters
When it comes to driving, nothing beats running through the gears on a great stretch of road. And now, driving a Slingshot is a lot easier than you think. We've introduced the new Slingshot AutoDrive Transmission and optional paddle shifters. All transmission options let you put the power down when and where you want it.
Transmission Options & Paddle Shifters
Nothing goes with an open-road drive like your favorite music playing crisp and clear at any speed and custom interior lighting. Optional Apple CarPlay® helps you stay focused on the road. Connect your iPhone to CarPlay to get turn-by-turn directions, make calls, send and receive messages, listen to music, and more. Your Slingshot Rockford-Fosgate system and Premium Interior Lighting Kit by XKGlow® will enhance your driving experience, and immerse you in the endless possibilities of the road ahead.
When it comes to bringing your essential gear along for the ride, having the right storage options is key. With Slingshot, you have several, integrated storage compartments and accessory bags that are designed so that packing your favorite gear is easier than you might think.
Expressing even more of your personal driving style is easy with the Slingshot Design Series. Like everything else about Slingshot, building a one-of-a-kind Slingshot takes only a few clicks on your phone or laptop.
EXPLORE THE ALL NEW 2021 LINE UP
The 2021 Slingshot SL, Slingshot R, and Slingshot R Limited Edition