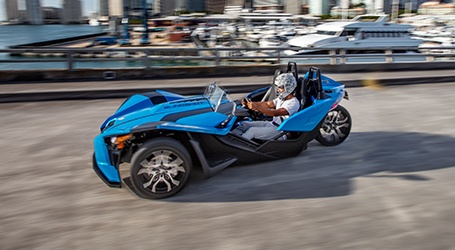 The all-new Polaris ProStar 2.0L 4-cylinder engine | Polaris Slingshot
The new 2020 Slingshot underwent a major overhaul from previous generations. One of the most substantial changes is the introduction/unveiling of the Polaris ProStar 2.0L 4-cylinder engine.
Building on years of engineering and testing, the ProStar 2.0L 4-cylinder engine's characteristics now truly fit this vehicle. What makes this engine so exciting is its undeniable fun factor that perfectly matches the vehicles attitude and character. This engine has low rotational inertia making it super eager to rev up to its 8500RPM redline and provide that immediate thrill of 203HP (R model).
But it's not all about max power and max RPMs, this new engine also offers a wide power band which is paired with new gear ratios in the transmission, making it as enjoyable and exciting around town as it is in the sweeping corners of the open road. Even with all that extra power you don't have to sacrifice fuel economy. In fact, our testing has shown an improvement in fuel economy over the predecessor.
Power and performance are great, but quality and durability are essential. That's exactly why the ProStar 2.0L is designed and manufactured with these elements as the foundation. The Polaris ProStar family of engines have been powering hundreds of thousands of Polaris vehicles for years. The ProStar 2.0L utilizes proven design architecture from our twin cylinder engines but brings a new level of automotive sophistication and quality to table.
At its core is an iron lined aluminum closed deck cylinder block, housing a forged steel crankshaft, forged connecting rods, and cast aluminum pistons with low friction ring coatings. The crankshaft is coupled to a lightweight ductile iron flywheel for lightning quick responsiveness. A dual overhead cam (DOHC) direct acting valvetrain coupled with a high flow cylinder head precisely controls valve position and engine breathing allowing the Prostar 2.0L to rev all the way to its 8500RPM red line. Oil control and friction can be challenging at high engine speeds, so the Prostar 2.0L utilizes crank chamber reed valves to limit crank case windage losses. Also, we increased the electrical output with a new 140A alternator to power all the accessories we know our customers love to add.
We've also tested this engine more than any of its ProStar predecessors. Over 7,000 hours of dyno time and more than 1.5 million on road test miles have proven that this engine is both fun and durable.
We were able to accomplish all this and still bring a huge weight savings of 65lbs to the table over the previous model's Ecotec engine. This weight reduction in the engine allowed Slingshot engineers to add some necessary weight back into the driveline of the vehicle to bolster the quality and refinement. All of these changes resulted in an overall vehicle weight reduction of 40lbs. With more power and less weight, the new 2020 Slingshot is able to achieve a 0-60 MPH time under 5 seconds in R trim.
The new ProStar 2.0L is sure to impress. It is the perfect blend of power, playfulness, efficiency, quality and durability which all adds up to thousands of miles of pure fun in the new 2020 Slingshot.