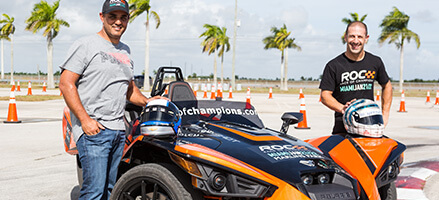 Polaris® Slingshot® SLR joins vehicle line up for ROC 2017
Polaris Industries is pleased to announce the 2017 Slingshot® SLR will be put into action when some of the world's greatest drivers assemble for the Race Of Champions (ROC)
MINNEAPOLIS (December 9, 2016) – Polaris Industries is pleased to announce the 2017 Slingshot® SLR will be put into action when some of the world's greatest drivers assemble for the Race Of Champions (ROC) on Jan. 21 – 22, 2017 inside Marlins Park, in Miami, Fla. The Slingshot SLR is the most premium model in the three-wheel roadster's lineup – featuring lightweight forged aluminum wheels, a 305MM-wide rear tire, Sparco® cockpit components and a custom two-tone paint scheme. The vehicle embodies on-road exhilaration and is sure to impress both drivers and fans watching in Miami next month, where the race units will be primed and ready to take to the track.
This is the first time Slingshot has provided vehicles for the competitive element of the Race Of Champions.
"We are excited to be a featured vehicle in the upcoming ROC Miami race," said Leigh Hauck, marketing manger of Slingshot. "The Race Of Champions brings together the best drivers in the world and we believe this is an incredible platform to display the performance story and capabilities of the Polaris Slingshot."
The Race Of Champions is an annual contest that has been held for more than 25 years. It brings together some of the world's greatest drivers from all of major motorsports – including Formula 1, NASCAR, IndyCar, Le Mans, MotoGP, Touring Cars, World Rally and action sports – setting them free to battle head-to-head in identical machinery. All the racing takes place in a fast-pace display of performance and on-road exhilaration, something that the Polaris Slingshot aligns with perfectly.
ROC president Fredrik Johnsson said, "To win the Race Of Champions, drivers need to prove themselves in a wide range of different vehicles to test their skills and versatility to the limit. At ROC Miami we will feature a mix of traditional vehicles and brand new vehicles that will be announced in lead up to the event. We are very excited to introduce this new high-performing Slingshot SLR to our stunning lineup of top machinery. It is the first time we've had a three-wheel roadster at the event and it will be fascinating to see how some of the world's top drivers adapt to this unique racing challenge."
The ROC event is run over two days: first is the Race Of Champions on Sat., Jan. 21, featuring a flat-out battle for individual glory. The ROC Nations Cup is held on Sun., Jan. 22 and is when drivers pair up in teams based on nationality to bid for the title of World's Fastest Nation. In 2017, the USA will take on the rest of the world in a special contest in celebration of the host venue.
In recent years, ROC has visited the Stade de France in Paris (2004-2006), London's Wembley Stadium (2007-2008), the "Bird's Nest" Olympic Stadium in Beijing (2009), Düsseldorf's Esprit Arena (2010-2011), the Rajamangala Stadium in Bangkok (2012), Bushy Park Barbados (2014) and London's former Olympic Stadium (2015).
This year, the event is coming to the United States for the first time in history to soak up the heat of Miami. Florida's sports fans will have a chance to watch the speediest action Marlins Park has ever seen, as some of the world's greatest drivers push to the limits on a specially designed race track winding its way around the infield and outfield areas of the park.
The star-studded ROC Miami field features many of the greatest stars of world motorsports. This year's competitors include four-time Formula 1 world champion Sebastian Vettel; fellow F1 star Felipe Massa; "Mr. Le Mans" Tom Kristensen; Indianapolis 500 winners Juan Pablo Montoya, Ryan Hunter-Reay, Tony Kanaan and Alexander Rossi; action sports greats Travis Pastrana and Scott Speed; NASCAR champion Kurt Busch; and double FIA World Rallycross Champion Petter Solberg. Even more big names will be announced in the run up to January's event.
Tickets for ROC Miami are now available via www.raceofchampions.com. For access to rights-free, high-resolution imagery and to keep up with all the latest news ahead of this year's event, please visit www.raceofchampions.com, Race Of Champions on Facebook and @raceofchampions and #ROCMiami on Twitter.
Drivers already confirmed for ROC Miami:
Sebastian VETTEL, four-time Formula 1 world champion
Tom KRISTENSEN, nine-time Le Mans 24 Hours winner
Petter SOLBERG, double FIA World Rallycross Champion
Juan-Pablo MONTOYA, 2015 Indianapolis 500 winner
Ryan HUNTER-REAY, 2014 Indianapolis 500 winner
Tony KANAAN, 2013 Indianapolis 500 winner
Felipe MASSA, 11-time Formula 1 grand prix winner
Kurt BUSCH, 2004 NASCAR champion
Travis PASTRANA, action sports legend
Scott SPEED, double Global Rallycross Champion
Alexander ROSSI, 2016 Indianapolis 500 winner
Slingshot SLR details
Available in dealerships now, the new SLR comes with a manufacturer's suggested retail price (MSRP) of $28,499 and builds on Slingshot's strong foundation of standard performance features. Key new features include:
Two-tone paint scheme with colored frame accents: Orange Madness and Turbo Silver
Full-body graphics
305mm-wide rear tire (40mm wider than the standard/SL rear wheel)
Premium forged-aluminum wheels – 18-in. front wheels and 20-in. rear wheel
Sparco lightweight aluminum shift knob
Sparco pedal covers
Sparco steering wheel
Open air intake
Composite brake rotors
Interior LED lighting kit
Like all Slingshot models, the SLR is constructed with a high-strength, steel spaceframe and powered by a 173-hp 2.4-liter, DOHC four-cylinder engine that drives the rear wheel via a five-speed manual transmission. The responsive combination delivers exhilarating acceleration and connects the driver and passenger to the road through a sophisticated double-wishbone front suspension and electronic power-assisted rack-and-pinion steering. All models also feature an electronic stability control system and disc brakes with ABS.
Follow us at Facebook.com/PolarisSlingshot and @Slingshot on Twitter.