HASSLE FREE MAINTENANCE FOR YOUR SLINGSHOT
Serviceable at all participating Slingshot dealerships in the US & Canada
Factory trained technicians & Genuine Slingshot parts
No deductible
Transferable to next owner to increase resale value
A simple solution to keep you driving
Prepay to protect against rising costs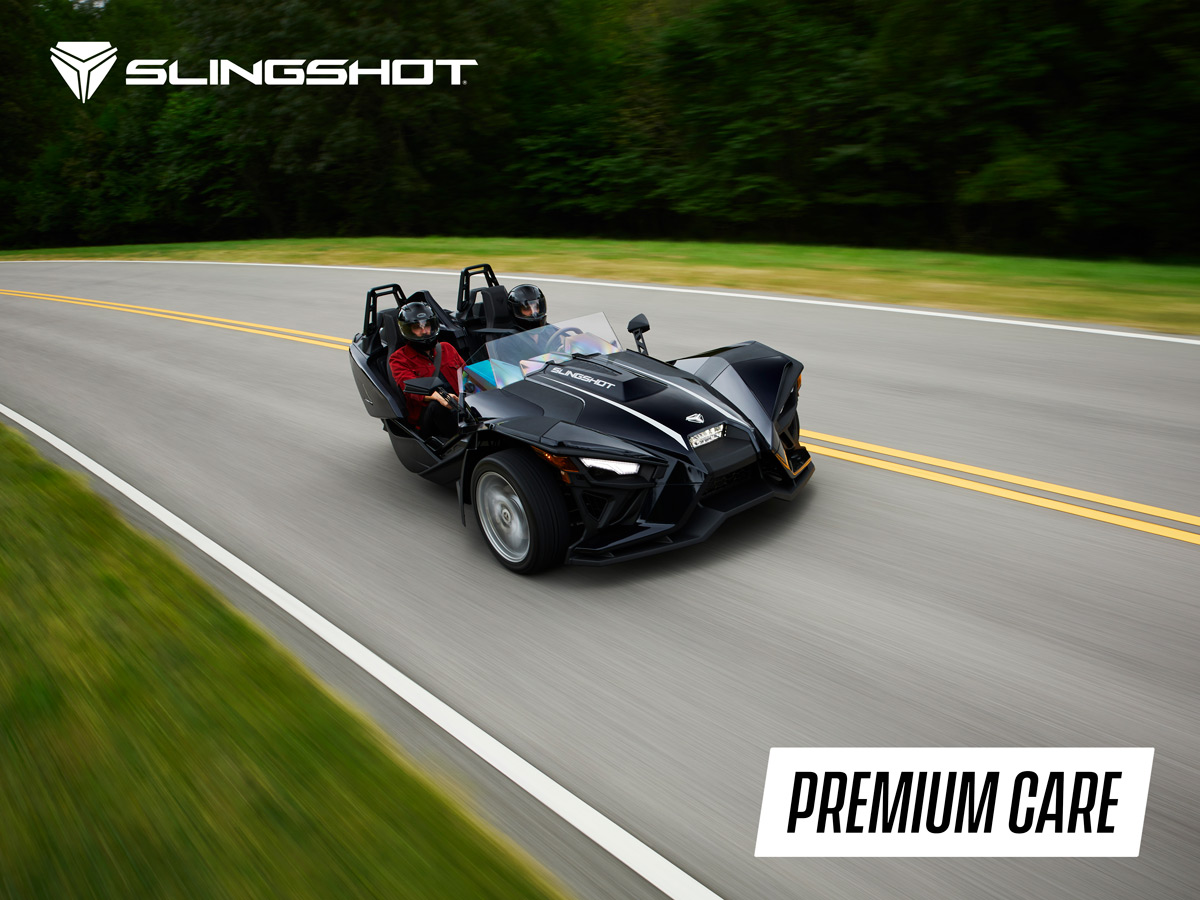 THE HIGHEST STANDARD OF SERVICE. ASK FOR IT BY NAME.
The Only Factory Authorized Maintenance Plan for Slingshot
Covered Services:
Engine Oil & Filter Change
Multi-Point Inspection*
Additional Benefits:
Roadside Assistance
5% Off All Parts & Accessories
Terms:
3 Years/4 Visits
OR
5 Years/6 Visits
Available on new and pre-owned Slingshot vehicles.
Please contact your dealer for program questions and pricing.

EXPLANATION OF ADDITIONAL BENEFITS
5% OFF SLINGSHOT PARTS & ACCESSORIES
Discount redeemable at Slingshot dealerships. (Discount not valid online, on apparel, or with any other offers.)
ROADSIDE ASSISTANCE
Need a tow, out of gas, dead battery, need directions? Reference your Premium Care Membership Card for Roadside Assistance Information.
TERMS & CONDITIONS
Non-cancellable after 60 days.
Serviceable at all participating Slingshot dealerships in the US or Canada.
Check for dealer participation before scheduling services.
Does not cover wear items. This is not a warranty program.
*MULTI-POINT INSPECTION INCLUDES
VISUAL CHECK OF: Battery, Belt, Brake Pads, Cooling System, Electrical System, Exhaust System, Fuel Line, Head Lights/Tail Lights, Loose Hardware, Steering Connections, Tires & Rims, Chassis & Control Components.
Inspection items that need to be replaced or repaired are not covered in services provided.