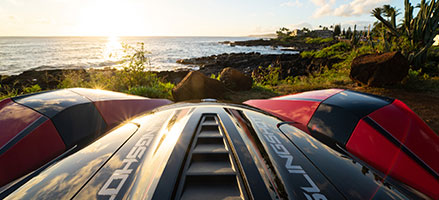 Slingshot's Summer of Fun Bucket List
MINNEAPOLIS (Jun 21, 2019) - Live your best summer life by hopping in a Slingshot and checking items off Slingshot's Summer of Fun bucket list! If you take a photo in your Slingshot completing items on this bucket list and post them on Facebook, Instagram or Twitter using the hashtag #SlingshotSummerFun, you'll be entered to win a trip to Hawaii! See rules for details and contest rules.
Use your Slingshot to:
Visit a scenic body of water (lake, beach, ocean, etc.)

Attend a concert or sporting event

Visit a National Park

Drive a scenic road

Post up at your favorite lookout

Drive to a fireworks display

Go on a group Slingshot ride with friends

Drive to a local park, water park, fair, etc..

Drive through twisty mountain roads

Take your Slingshot to your favorite restaurant

Drive your Slingshot to your favorite ice cream shop

Be seen driving your Slingshot downtown

Enjoy sunrise in your Slingshot

Watch the sunset in your Slingshot

Take your Slingshot to a National monument

Visit a local mural or street art location in your Slingshot
If you don't have a Slingshot of your own yet, visit your local dealer to take a test drive for a chance to win and see what all the fun is about!