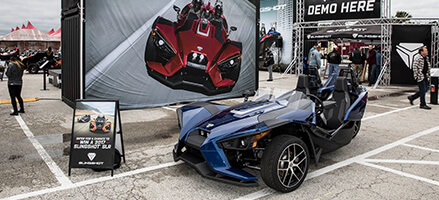 Polaris® Slingshot® takes to the streets of Daytona beach during the 76th annual bike week
Slingshot to participate in the 76th Annual Daytona Bike Week with daily activities for fans and owners
MINNEAPOLIS (March 6, 2017) – Slingshot®, the bold three-wheeled roadster with an open-air, race-ready cockpit, will roar into the 76th Annual Bike Week in Daytona Beach, March 10-19. For the first time at Bike Week, Slingshot will offer demo rides on its full MY17 lineup at the Daytona International Speedway. That's in addition to other exciting opportunities for fans to interact with the exotic looks, raw performance and pure adrenaline rush that this lightweight three-wheeled motorcycle offers.
"Daytona Bike Week is the epicenter for motorcycling enthusiasts," said Rachel Elia, Slingshot Marketing Manager. "There is no doubt you will witness our presence in full force with activations at the Daytona International Speedway, Destination Daytona and Main Street. Fans and owners will take notice as the dual seat Slingshot roadster makes its presence felt at Bike Week."
Slingshot will have a far-reaching presence designed to engage visitors with the edgy, three-wheel performance roadster, while introducing the open-air cockpit and side-by-side seating to a whole new set of enthusiasts. Throughout the week, the Slingshot Street Team will be roaming the streets and venues of Daytona Beach giving away gear that celebrates the Slingshot lifestyle. In addition, custom Slingshot builds from The Auto Firm will be on display at the Destination Daytona Concert Pavilion to showcase the 360-degree, race-ready cockpit and exotic, head-turning design of this one-of-a-kind roadster.
See below for the full schedule of Slingshot events at Bike Week, including factory display locations, consumer test ride opportunities and Slingshot owner activities.
MY17 Slingshot Factory Display
Daytona International Speedway
March 10-17 from 9 a.m. – 5 p.m. (last ride leaves at 4:30 p.m.)
Slingshot will have its full 2017 product line on display, including apparel and accessories, as well as several head-turning custom units. Visitors can also check out the a race-ready unit that was recently driven by some of the world's best drivers at Race of Champions in Miami. While at the display, visitors can register for a chance to win their own 2017 Slingshot SLR.
MY17 Slingshot Consumer Test Rides
Daytona International Speedway
March 10-17 from 9 a.m. – 5 p.m. (last ride leaves at 4:30 p.m.)
Visitors are encouraged to come out early to get signed up for a Slingshot test ride. Driver and optional passenger will enjoy a side-by-side ride, exploring the twists and turns of the surrounding area. Demo rides are free and available to those with a valid motorcycle endorsement and proper riding attire. All sign-ups are day-of.
Slingshot Owner Rides
Saturday, March 11 at 11:45 a.m. (Indian Motorcycle of Daytona Beach)
Sunday, March 18 at 10 a.m. (Volusia Motorsports)
Slingshot owners are invited to take part in two organized rides:
On Saturday, March 11, Slingshot riders will depart from Indian Motorcycle Daytona Beach and end with a lunch at Hidden Treasure Bar & Grill. For more information or to register, visit: https://www.facebook.com/events/1738687246156838/.
Hosted by: Indian Motorcycle of Daytona Beach
290 N Beach Street
Daytona Beach, FL 32114
On Saturday, March 18, Slingshot riders will leave from Volusia Motorsports and end at Norwood's Treehouse Restaurant for lunch. For more information, visit: https://www.facebook.com/events/162739167561010.
For more information or to register, visit SIGN UP for 3/18 Slingshot Ride from Volusia Motorsports.
Hosted by: Volusia Motorsports
1701 State Road 44
New Smyrna Beach, FL 32168
For more information about Slingshot visit PolarisSlingshot.com. Follow us at Facebook.com/PolarisSlingshot, @Slingshot on Twitter and @polarisslingshot on Instagram.
Polaris Industries Inc. (NYSE: PII) is a global powersports leader that has been fueling the passion of riders, workers and outdoor enthusiasts for more than 60 years. With annual 2016 sales of $4.5 billion, Polaris' innovative, high-quality product line-up includes the RANGER
®
, RZR
®
, and Polaris GENERAL
™
side-by-side off-road vehicles; the Sportsman
®
and Polaris ACE
®
all-terrain off-road vehicles; Indian Motorcycle
®
midsize and heavyweight motorcycles; Slingshot
®
moto-roadsters; and Polaris RMK
®
, INDY
®
, Switchback
®
and RUSH
®
snowmobiles. Polaris enhances the riding experience with parts, garments and accessories, along with a growing aftermarket portfolio, including Transamerican Auto Parts. Polaris' presence in adjacent markets globally include military and commercial off-road vehicles, quadricycles, and electricvehicles. Proudly headquartered in Minnesota, Polaris serves more than 100 countries across the globe. Visit
www.polaris.com
for more information.