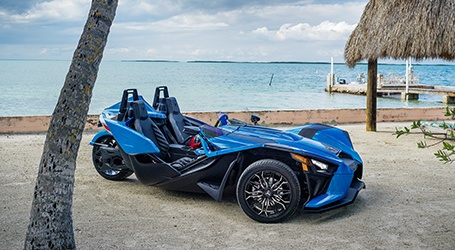 What is a Slingshot Autocycle?
You've seen it on the street, screaming 'stand-out attitude.' A visceral experience when you are behind the wheel that is second to none. An open-air, three-wheel roadster like none other on the road.
But what is the Polaris Slingshot?
Mechanically distinct given its form and functionality takes cues from both cars and motorcycles, for the vast majority of the country it has a unique classification termed "autocycle." Meaning, and in all but two states in the U.S., you simply need a standard driver's license to operate. And the same holds true in Canada, where all but three provinces deem the three-wheeled Polaris Slingshot an Autocycle.
With no federal autocycle classification, here are a few defining features that result in the autocycle classification by region:
A three-wheeled vehicle featuring a steering wheel rather than handlebars
Side-by-side seats for the driver and passenger with seatbelts, but no airbags
Consumers are encouraged to visit our license requirements page for more information and should contact their state department of motor vehicles for additional autocycle classification rules and regulations. Use of a full-faced, DOT-approved helmet must be worn whenever operating or riding in a Polaris Slingshot, but each state has unique requirements around helmets and safety.
The bottom line is in a Polaris Slingshot you get the best of both worlds and a truly one-of-a-kind driving experience – the open-air sensation of a motorcycle with the comfort and control of an automobile.
And this year, we have stepped up the next-level driving experience that only a Slingshot can offer, with the introduction of our 2020 model line-up featuring 70% all-new vehicle content. Taking center stage is Slingshot's first-ever automated manual transmission – AutoDrive. With no clutch pedal or manual shifting necessary, drivers can operate a 2020 Slingshot with AutoDrive in much the same way they drive a standard automatic. With the majority of people unable to operate a stick shift, the introduction of AutoDrive transmission opens the door to welcome a whole new group of eager consumers ready to enjoy the Slingshot lifestyle.
Furthermore, the 2020 Slingshot packs Polaris Industries' first four-cylinder engine, the Prostar 2.0L, and a completely redesigned interior – providing more comfort and convenience with a new steering wheel, gauges, and added storage compartments.
Today represents the best time ever to check-out and test drive a 2020 Polaris Slingshot. Contact a local dealer and schedule a test drive while at the same helping us to donate meals to local communities as part of our Drive For Good campaign.