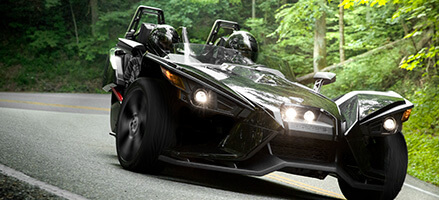 Polaris® annouces new limited edition Slingshot® at 2015 Las Vegas dealers show
After turning heads across the country in Red Pearl and Titanium Metallic, Polaris Slingshot is adding a striking new edition
MINNEAPOLIS, MN (July 27, 2015) – After turning heads across the country in Red Pearl and Titanium Metallic, Polaris Slingshot is adding a striking new edition to its line-up – the Black Pearl SL LE – for a limited run starting this August. Fans took to Twitter and Facebook asking Polaris to release a black Slingshot and the brand delivered in a big way at the 2015 Las Vegas Dealers Show. In addition to its sleek new color, the Slingshot® Black Pearl SL LE features dramatic Indy Red color accents on its frame rails, coil springs and swing arm as well as black seats with grey accents. The new Slingshot is packed with exhilarating features including a new low profile tinted blade windscreen that gives the vehicle a more aggressive look and an interior LED white and blue lighting package for an adrenaline-charged nighttime driving experience. Beginning in August, dealers will be receiving a limited quantity of this eye-catching model.
"The Black Pearl LE represents everything Slingshot stands for – exhilaration, innovation and head-turning design." said Craig Scanlon, vice president of Slingshot. "With a limited time to experience the new Slingshot first-hand, we expect the demand to be huge."
The unique Slingshot® experience includes:
A low, wide stance allowing drivers to feel the rush of pavement under the seat.
An open-air cockpit for a 360-degree rush of sight, sound and smell.
A shared riding experience, giving the driver and passenger to get a front row shot of adrenaline.
Optimized weight distribution and proprietary low-profile tires for maximum cornering.
A lightweight design for powerful acceleration.
Slingshot® Trim Levels:
Slingshot® is now offered in three distinct trim levels for a limited time only. The base Slingshot® has a starting U.S. MSRP of only $21,199 features titanium metallic paint, 17 inch lightweight alloy wheels upfront and an 18 inch wheel in the rear. The premium Slingshot® SL, with a starting U.S. MSRP of only $25,199 features Red Pearl paint, larger 18 inch cast aluminum wheels upfront and a 20 inch wheel in the rear, as well as a blade windscreen for wind protection. It also features a media console with a 4.3" LCD screen, back-up camera, Bluetooth® integration and a 6-speaker audio system. The Slingshot® SL LE offers all of the same upgrades as the Slingshot® SL, but on top of that will include a striking Black Pearl paint color. The Slingshot® SL LE in Black Pearl has a U.S. MSRP of $26,199.
Follow us at Facebook.com/PolarisSlingshot and @Slingshot on Twitter.