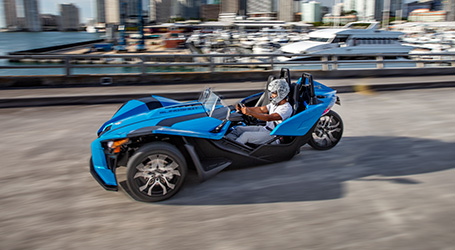 POLARIS SLINGSHOT RAISES THE PERFORMANCE BAR
Calling the 2020 Polaris Slingshot the most fun on 3 wheels is not an overstatement. The 3-wheeled roadster offers a completely unique driving experience with an open-air cockpit sitting 5 inches from the ground.
Paired with its eye-catching style is its impressive, and often surprising, performance. All packing a powerful punch, the models in the 2020 Slingshot lineup vary slightly with the main differentiator being the horsepower of each vehicle and transmission options.
PERFORMANCE ENHANCEMENTS OVERVIEW
2020 brought two new 3-wheeled vehicle models, the R and SL. The R model is offered with either a sporty 5 speed manual transmission or an intuitive AutoDrive transmission, with no clutching or manual shifting necessary. It has additional features like a wider rear 305mm tire, improved breaks, sport interior package, as well as a distinctive two-tone paint scheme. Learn more about the R (link out). The all-new 2020 SL, offered in 2 new colors, also with enhanced trim. Along with a suite of new 2020 features, the SL comes standard with the new AutoDrive transmission. Learn more about the SL (link out).
THE DRIVING EXPERIENCE
Driving a Slingshot is truly indescribable. With a truly open cockpit, drivers experience the rush of the open road. One of a kind style and 3-wheeled design has you standing out in a crowd. The new Polaris Prostar 2.0L 4 Cylinder engine pairs power with fun to give Slingshot even more personality than ever before.
Often left out of the equation, however, is whether the vehicle is driven on a completely flat, straight road vs a twisting sloping road. The Slingshot's new suspension and steering system shines through in this regard. Its re-engineered suspension and all new steering system provides a smooth handling and control even on the most challenging of roads.
PERFORMANCE SPECS
Double takes aren't the only thing you get with a Slingshot. Both models have an impressive list of specifications that leave nothing to be desired.
How fast will a Slingshot go 0 – 60 MPH?
What is the peak horsepower of a Slingshot?
SL: 178 horsepower at 8,500 RPM
R: 203 horsepower at 8,250 RPM
What is the peak torque of a Slingshot?
SL: 120 ft lbs @ 5,500 RPM
R: 144 ft-lbs at 6,500 RPM
What is the power to weight ratio of a Slingshot?
SL: 9.3 lb/horsepower
R: 8.1 lb/horsepower
What is the top speed of a Slingshot?
SL: Limited to 125 MPH
R: Limited to 125 MPH
How much cornering grip does a Slingshot have?
*Certain MY20 Slingshots are powered by AutoDrive, a proprietary automated manual transmission. MY20 Slingshots do not have fully automatic transmissions.