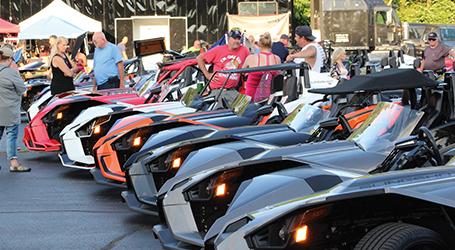 Club Call-Out: Indy Slingshot Riders Blake and Kelly
Meet Blake and Kelly
Once Blake and Kelly Brooks purchased their Slingshot, they set out to connect with fellow Slingshot owners, and the result is one of the most social and active Club Slingshot clubs in the country.
Longtime motorcycle riders, Blake and Kelly saw their first Slingshot on display at Biketoberfest in 2014, "and my husband said, 'I'm going to have one of those,'" Kelly recalled. In 2016, they purchased their base model from Flat Out Motorsports in Indianapolis. They immediately started customizing the vehicle and seeking fellow joyriders.
"We saw another Slingshot at bike night and eventually found the owner," Kelly said. "Then I started a Facebook page to connect and meet up for rides. We call our group Indy SS Riders, and we meet up for supper or we go riding down to some destination like Nashville, Indiana because it's got a lot of good twisty roads."
Her goal was to limit the group's membership to Hoosier State residents. "You must live in Indiana, and you need to own or be on the brink of owning a Slingshot," she said. But as membership requests flowed in from afar, she formed another group.
"We met more people from other states, and some Florida riders saw and liked what we were doing, so I created Midwest SS Riders, and it now has over 630 members from all across the country… We wanted other riders to know when they came through Indiana, they had a hub they could contact and people who would take care of them. If you need assistance or advice, you know you can reach out to us."
Active Indy Riders
The Indy SS Riders hold a business meeting once a month at Flat Out, and typically follow it with a ride or lunch run. "Nobody there is shy, they like to eat," Kelly laughed. "It's a supper club!"
The group attends a lot of car shows and cruise-in events, provides support for Slingshot demo ride events at Flat Out, and supports two Indianapolis charity projects.
For the past three years, they have provided ever-increasing support for the Savannah Strong charity ride, which raises awareness about the risks of carbon monoxide poisoning. The most recent event included 114 Slingshots and several motorcycles taking a lap on the famed Indianapolis Motor Speedway.
"We basically organized a three-day mini-rally with vendors who supported it and people coming from nine states," Kelly said.
Indy SS Riders also take part in the annual Miracle Ride benefitting the Riley Hospital for Children in Indianapolis.
Club members also travel to events in other states, such as Slingshots in the Smokies, the Homecoming in Alabama, and rallies in Florida. To Kelly, the Slingshot community has no boundaries.
"It's all just one big family," she said. "It's the best community, the best people ever. I'm a mom and these are now all my kids."
And for Kelly and Blake, their customized Slingshot with the license plate "SS ENVY" is their baby. "We have had a lot of toys, but this by far is the best," she said. "It feeds my fire. We love it."
Ready to plan your own Slingshot road trip? Test drive a Slingshot today to get a jumpstart on your next adventure.