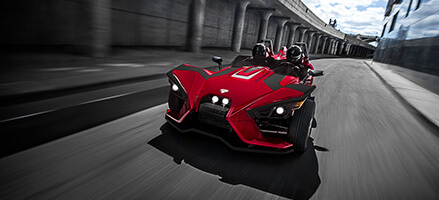 Bold & disruptive promotional campaign for Polaris ® Slingshot ® delivers
Three-Wheeled Roadster's "triple dare" campaign generates strong results during college basketball's championship tournament in March
MINNEAPOLIS (April 13, 2017) – With a disruptive voice and a far-reaching campaign, Polaris Slingshot set out to educate a new thrill-seeking audience who embraces adrenaline and attention. The first-ever national advertising campaign, designed to build the brand's awareness, leveraged college basketball's championship tournament in March. The month-long campaign that "dared" consumers to ride a Polaris Slingshot was nothing short of a success.
The effort delivered strong results and positive KPIs for Slingshot, a three-wheeled, open-air roadster that combines exotic looks with raw performance and literally created and redefined a category for thrill-seeking adrenaline and attention junkies. Among the highlights included:
A 37% increase in website visits during the month versus 2016
The second-highest web traffic day in Slingshot history on the first day of the tournament
A total reach of nearly 281 million fans, inclusive of national, local television and paid digital
A record 24,000 new consumers seeking to gain more information on Polaris Slingshot products
A robust national satellite media tour with NBA legend and all-time leading 3-point scorer Ray Allen, which reached an earned media audience throughout the top national sports outlets
The integrated media campaign included national and regional television, social and digital media buys showcasing new creative from agency of record Team One. Advertising schedules were showcased not only in the games themselves, but amongst tournament shoulder programming on ESPN and CBS Sports Network. The edgy creative took viewers on a journey highlighting the aggressively styled Polaris Slingshot from different angles ultimately "daring" the viewer to drive one at their local dealer while introducing the brands new beacon "Slingshot to the Edge".
"We committed to kicking off the buying season with a bang, leveraging the month of March to drive a broader audience to the brand," said Kevin Reilly, Vice President, Marketing. "The impact and reach was a perfect way to kick-start our promotional efforts and the awareness generated will build momentum for the brand while supporting our nationwide dealer network."
Follow us at Facebook.com/PolarisSlingshot, @Slingshot on Twitter and @polarisslingshot on Instagram.