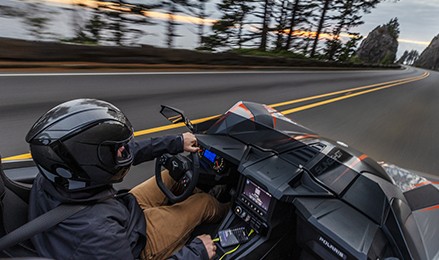 Top Vacation Destinations for Slingshot Owners
Everyone knows how amazing vacations can be. A moment in time to get away, leave the rest of the world behind and take the trip of a lifetime. But only those select few who own a Slingshot know how taking a vacation in this open-air driving machine changes the game. It ups the adventure. Hopping into a Slingshot and hitting the road turns getting to your dream destination into an unforgettable experience.
Year-Round vacations in a Slingshot
Many people put warmer weather destinations and vacations together. And for good reason. There are few things that can put a smile on someone's face as fast as a little sun, sand, winding roads and abundant wildlife-plus plenty of beautiful scenery. Here are our top places to head to when it comes to warmer weather and comfortable driving conditions for most of the year.

Pacific Coast Highway along the California Coast
This is a historic piece of Americana that was made for the open-air cockpit of the Slingshot. It's an exhilarating experience for drivers, with twisting stretches through mountainous settings, scenic forests and panoramic views of the Pacific. A PCH tour starts in Northern California in a town called Leggett, takes you south across the Golden Gate, through Los Angeles and ends in San Diego. From Big Sur to Cannery Row, to the Pirate Tower in Laguna Beach, plus numerous beaches and lighthouses along the way, there's no shortage of things to stop and see.

Yosemite National Park, California
Take an awe-inspiring drive into the heart of the American wilderness. Yosemite National Park is home to over 700,000 acres of protected land and is one of North America's Seven Wonders. Getting there is half the adventure, and once you are, be sure to ride into Yosemite Valley where you can hike out to Yosemite Falls, take the Cook's Meadow trail to Half Dome or drive to Glacier Point for a panoramic view of the entire valley.
For long cross-country trips, consider trailering your Slingshot to your destination and take day trips from there. Because of it's 3-wheel design, never tow your Slingshot behind another vehicle.
Las Vegas, Nevada
There's nothing better than rolling through Sin City in a Slingshot. Cruise down the strip and turn heads, hit a casino or two and take in a show. There's never a lack of things to do or see. The Slingshot also lends itself perfectly to a ride through the Mojave Desert or a road trip out to the Hoover Dam for some down time at Lake Mead.

Zion National Park, Utah
Utah Highway 9, also known as the Zion National Park Scenic Byway, delivers a tight, twisting scenic canyon drive that goes on for nearly 60 miles. The road is home to the mile-long Zion tunnel, constructed back in 1930, along with stunning rock formations and features to take in, including Checkerboard Mesa. There is a fee to drive through the park with opportunities to visit the Zion Canyon-but only by shuttle during the tourist season.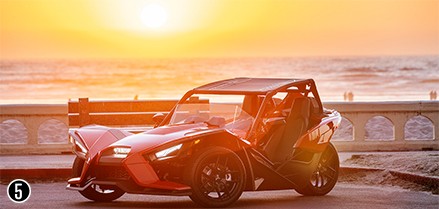 Daytona Beach, Florida
Visitors to the area will be treated to sunshine, sandy beaches and miles of scenic ocean drives, including the Sunshine State's historic A1A. Plus, there are a wealth of other options to satisfy anyone's appetite for fun. When not driving, visitors to the area can take in live music, watch the racing at the Daytona International Speedway or simply sit back and enjoy the beautiful Florida weather. And if you happen to be in the area around mid-October, be sure to check out Biketoberfest, as well as Daytona Bike Week in early March.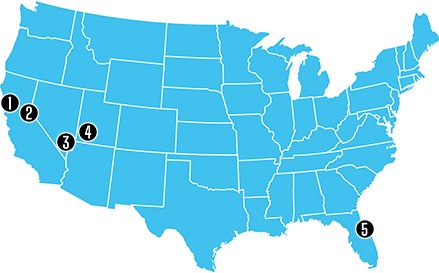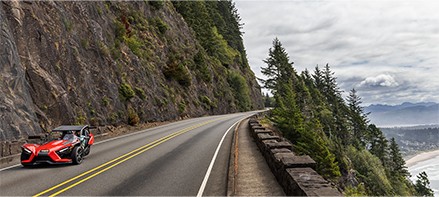 Take Your Next Vacation on Three Wheels
Take a little inspiration from the places above and start planning your next vacation in a Slingshot. Whether your itinerary has you heading to one of our suggested locations or you decide to plan a trip on your own-remember, when you're driving a Slingshot, the fun is always in the getting there.
---
Slingshot Rentals and Experiences
If you don't currently own a Slingshot, want to take a ride in an area you're flying into or just want to experience a new model-Slingshot rentals are the way to go. You can find places to rent all across the country. Try booking a rental in some of the most amazing places on earth.