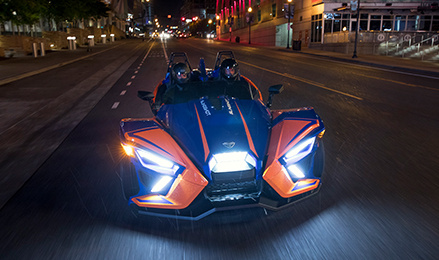 What Makes A Great Slingshot Ride
The Open Road Is Calling. Answer It.
There's no better way to connect with the road and your surroundings than in an open-air cockpit, 3-wheeled 2-seater, just inches from the pavement. It's this heightened sense of awareness that produces a thrill you can only appreciate by experiencing it first hand.
Exploring a stretch of road on three wheels in the open air without a roof or doors gives you the freedom to take in the sights from every angle, making a scenic route even more memorable.
Find Scenic Routes Near You
No matter what region you live in, there are beautiful sights within driving distance that change throughout the seasons. Some are nature-made like seaside winding roads, mountain range byways and great lake shoreline routes. However, man-made structures can be just as breathtaking. Lengthy bridges, city skylines and even industrial complexes can all add visual interest to any landscape. Of course be sure to keep safety first and the sights can be a close second.
You may be new to the Slingshot way of life, or driven one for years - either way the roads you choose can be as personal as your Slingshot style. Straight, smooth routes like rural highways create a laid-back enjoyable vibe, while alternating curves and tight switchbacks make for a fun and engaging scenic drive. Of course urban streets generate the best opportunity to grab attention and show off your Slingshot. When planning your route, use a GPS or touchscreen display to be alerted of construction so you can find an alternate route.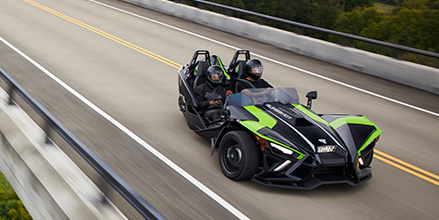 Find nearby attractions, local restaurants and places to gas up along the way with RIDE COMMAND, a touchscreen display with GPS functionality
Plan for Road Trip Attractions and Destinations
It's All In The Getting There

In addition to wide open air, a great Slingshot drive can include fun stops that add to the adventure. Most highways have historic sites and in rural areas you can often find unique roadside attractions. While the drive itself may be scenic, there are also scenic overlooks near most state parks that make for a great break from sitting behind the wheel. You can hop out of your Slingshot for a stretch or even practice your photography skills.
You can also add an element of nostalgia to your adventure by seeking out historic routes and waypoints along the way. No matter where you live, there is no shortage of them to explore. A few examples include the legendary Route 66, the Pacific Coast Highway, the Lake Michigan Circle Tour and the Key West Overseas Highway.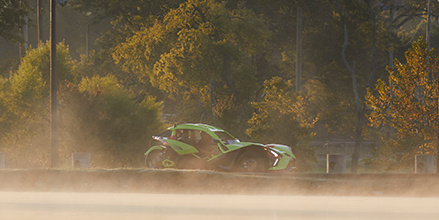 Add Accessories for Riding Comfort
Make it your own
Wherever your destination, you'll want to prep your Slingshot for a comfortable drive. It's important to choose accessories that help you feel right at home while out and about. Update your Slingshot with climate-controlled seats, sun blocking Slingshade, and audio upgrades to suit your travel needs. Choosing wide fenders, wing guards and custom wheels can make your Slingshot feel like it is your own.
The right gear also goes a long way. Gloves keep your hands warm and provide a good grip on the wheel. A quality jacket has function to match it's style by maximizing airflow on warmer days, keeping you warm on chilly rides. Depending on what state you ride in, a helmet may be required, and a well-fitting example will be comfortable and provide maximum protection. You can even find a great pair of shades to knock down the glare from the sun.
If you're going to make a weekend of it, equip your Slingshot with the right extra storage and keep your Slingshot up to date with the latest hands-free technology to help you stay on track toward your destination.
Finally be sure to prepare for every type of weather and road conditions. Check ahead to find out if weather or construction has caused any road closures on your route. Keep the rain gear packed and embrace the elements with confidence.

Solo Rides Versus Group Rides
Be A Lone Wolf Or Join A Pack
Getting behind the wheel of a Slingshot is an excellent way to disconnect from the stresses of everyday life. Sometimes a solo journey is just what you need. You're on your own schedule, can pick your own destination and stop whenever you feel like it. But if you're looking for a more social experience there's no shortage of options.
Driving a Slingshot is a lifestyle. You can follow some of their stories by searching #theslingshoteffect. It's a big family of people who share the same passion and a great place to find recommendations on great places to drive, as well as find new friends to drive with. The Slingshot culture is filled with passionate members for a reason. They only way to find out if it's right for you is to get behind the wheel and experience it first hand.